Max Klinger's "Ein Handschuh" (A Glove), 1881: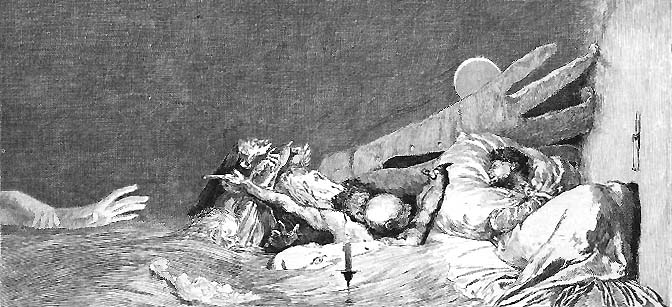 7. "Ängste" (Anxieties)
Technique: Etching, size of actual image: 11 x 23.9 cm.
Strange animals and half-human creatures haunt the dreamer. This is very different from the other nocturnal scene. Not only is it a difference between despair experienced when one is awake and when asleep - the other image still contemplated a feeble kind of hope displayed in metaphorical imagery, but this image depicts the more literal delirium of a consumed, of one who can neither aspire to vanquish the beloved nor hope to escape from her bewitching power.

Previous image|Next image
About Max Klinger

[English Homepage]
[Svensk bassida]
[Origo menu]

***