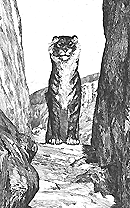 MAX KLINGER (1857-1920), German graphic artist, painter and sculptor, was born and worked in Leipzig, but from time to time he also lived in Brussels, Paris, Munich, Berlin and Rome. He studied graphic technique during a few years in the 1870's for Karl von Gussow, in Karlsruhe and Berlin. Gussow, who at this time had acquired the epithet "Germany's most daring painter", was appreciated for his genre-paintings. It is possible that Klinger was influenced by his teacher, not only in technique but also regarding the anecdotal content of the tableau-like pictorial world that characterized genre-painting.
Klinger's virtuosity is often emphasized, his skill including not just one but a mix of several techniques. And his style is realistic and fantastic to such an extent that his etchings and engravings - not surprisingly - appealed to both symbolists and surrealists. He influenced artists as different as Edvard Munch and Max Ernst. Giorgio de Chirico admired Klinger for his special sensibility, as being one "who sees clearly into the past, into the present and into himself."
Klinger was also a painter, but he believed that color images required a realism more freed from commentary, while etchings were more fit to express feelings and fantasies. In total Klinger made 16 serials, containing altogether 325 engravings. Among the most famous is, for instance, "Vom Tode", divided into two parts. Part II (1898-1909) contains the nightmarish vision "Plague" (Pest). The picture at the top of this page is taken from "Eve and the Future" (Eva und die Zukunft, 1880), and it is titled "First Future" (Erste Zukunft). It is cropped to a considerable degree here.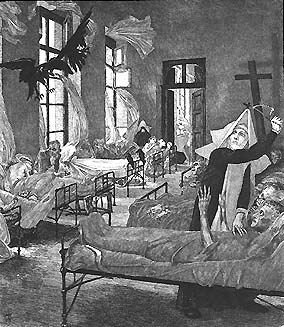 "The Plague", from the suite Vom Tode II, 1898-1909.

The ten etchings in the cycle "Paraphrase on the Finding of a Glove" from 1881 anticipates both the fetish theory of Freud and the psychedelic pictorial universe that emerged 90 years later - which actually was a kind of neo-jugend or "art nouveau nouveau". The Glove cycle had been exhibited in the form of ink drawings at the Berliner Kunstverein already in 1878, when Klinger was 21. There is a remarkable sense of whirling terror in these images, although they are quite static, sharp and fixed. Certainly, pictures by an artist such as Beardsley might convey a hallucinatory smell of absinth or haschisch - but they don't move.
Not everything about Klinger was ominous or Freudian. The cycle "A Life" (Ein Leben) with its awareness of social issues regarding the fate of a woman, could illustrate some text by Zola.
Klinger did not marry until one year before he died. For the most part of his life he was officially a bachelor, still he had a relationship for twenty years with author Elsa Asenijeff, whom he met when he was 41 years old.
Of course, it comes rather naturally to interpret the glove in Klinger's serial as a fetish, a symbol of woman, love and erotism. It is, however, more difficult to see it as a symbol of a more specific woman. Of the two women in plate 2, which one could it refer to? Or does it refer to women in general - to desire?
Maybe this is not about the madness of love at all, but about the madness of the artist, not Klinger's in particular, but the general lunacy of artistry, which might set a creative or overheated mind in full spin before some emotionally charged object.
Which one of the women who owns the glove is, strictly speaking, a question of signified versus signifier, and consequently also a question of original versus copy. This is truly congenial regarding art from a time when the concept of "original prints" arose and the issue of authenticity gained new importance. Klinger himself wrote about original prints as a medium for fantasy and poetry in his brochure "Malerei und Zeichnung" (1891). At this time, manual production was not the crucial criterion when it came to discerning original prints from mere reproduction. Even rubbish was handmade. Instead, authenticity now entered into a rare union with originality - in the content sense. And in that respect, Klinger had certainly thrown down a glove.