Please note: All files marked with a copyright notice are subject to normal copyright restrictions. These files may, however, be downloaded for personal use. Electronically distributed texts may easily be corrupted, deliberately or by technical causes. When you base other works on such texts, double-check with a printed source if possible.

Disney mice aren't Gottfredson only:
Here's the classic Mickey Mouse of Paul Murry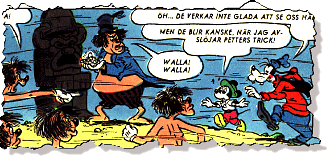 ARE YOU ESPECIALLY FOND OF those long Mickey Mouse adventures from the fifties, sixties and seventies? If so, this article is for you, since it is about the man who, more than anyone else, created the adventurous Mickey Mouse character of those decades - comics artist Paul Murry.
Although Mickey Mouse's personality and charisma were already formed in the thirties and forties through Floyd Gottfredson's daily comic strips, it is the opinion of most people that Murry was the primary person to continue this legacy in the comic book form (compare with Gottfredson, Strobl and Barks here!). During his career, Murry drew thousands of pages of comics and was one of the very few artists who could essentially draw all of the Disney characters. In addition to Mickey, he also drew such diverse characters as Donald Duck, Little Hiawatha, Li'l Bad Wolf and Dumbo. However, he is most known, and rightly so, for the American Mickey Mouse serial that he drew for Walt Disney's Comics and Stories (WDC) during the years 1953-73.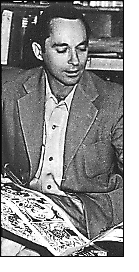 Murry was born in 1911 in Missouri and originally worked as a farmer. He taught himself to draw and began working for an engraving company in 1937. He was hired after the owner of the company saw a questionnaire form he submitted to a contest, the borders of which he had decorated with his own sketches. He also won a new piano in that contest. This, in turn, financed his trip to Hollywood the following year for a period of trial employment at Disney.
At this point in time, Disney comics were only being drawn for the daily newspapers in the United States, so Murry first worked his way up to the job of film animator. Mostly he worked for Fred Moore, who was one of Disney's foremost animators, and who essentially created the modern Mickey Mouse. This is the primary reason that Murry gives for his subsequent emphasis on drawing Mickey comics. In addition to short films, he also worked on "Pinocchio", "Dumbo", "Saludos Amigos" and "Song of the South"; all containing characters that he would later work on in his comics.
In 1943, Murry started drawing his first comic strip for the newspapers, a Sunday strip with José Carioca from the film "Saludos Amigos", which ran between 1942 and 1944. In the following years, up to 1946, he also drew scattered daily comic strips with Mickey Mouse and the Sunday strip Uncle Remus with Br'er Rabbit. Soon he was drawing his first strips made specifically for comic books, which were published in "Uncle Remus and His Tales of Br'er Rabbit", Four Color 129, at the end of 1946. Some of them were little more than comics versions of tales from the film, "Song of the South", of the same year, but they are still very readable. Among the sequences is one, where Br'er Rabbit smears himself with a doll made of tar (sic!), indicative of Murry's time in animation. It is funny that Br'er Rabbit also in the comics hops around, humming the Oscar winning song, "Zip-a dee-doo-dah", from the film.

| | | |
| --- | --- | --- |
| | | |

In 1947, Murry only drew a few stories for WDC, among them the Li'l Bad Wolf episode in WDC 79, which was published in the first issue of the different Scandinavian Donald Duck comic books (the second issue in Germany).
The First Mickey Mouse Comics
During 1948 and 1949 Murry's work was hardly seen at all in Disney magazines, but reappeared in the summer of 1950. His first Mickey Mouse comic book, "The Monster Whale", could be seen in the bound volume, Vacation Parade 1, which also contains Carl Bark's Donald Duck classic, "Vacation Time". The story is not, however, a high point in Murry's career. The enormous monster whale, mentioned in the title, is continuously suffering from a toothache, and after Mickey and Goofy have helped the whale with this problem, he then becomes nice again. It is only of interest from a comics history perspective. That same year, he replaced Bark's ten page Donald Duck episodes in five issues of WDC. Barks was devoting more time towards longer adventure stories for Four Color.
Much more interesting are Murry's two subsequent Mickey Mouse stories. The first of these, "The Mystery of the Double-Cross Ranch" from FC 313, February 1951, is a 32 page masterpiece. Mickey and Goofy visit Minnie's ranch to find out who is stealing her cows at night. There is no real mystery involved since one suspects early on who the thief is, but the story very effectively combines humor and drama. I think that the final scene, where Minnie kisses Mickey in a helicopter, is one of the best endings ever to a Mickey Mouse comic.

| | | |
| --- | --- | --- |
| | | |

The next story with Mickey, "The Ruby Eye of Homar-Guy-Am", came out in FC 343 in August of that same year. Unlike "The Mystery of the Double-Cross Ranch", this one is full of absurd humor, and Goofy really has one of his great starring roles. In subsequent adventures of Mickey Mouse in the years to follow, Goofy's naive or stupid sides were held back so as not to steal the show or the eventual detective mystery from Mickey. That is not the case at all in this story; it is full of original situations and clever dialogue. This is one of the best funny comic strips ever drawn with Mickey.
Following this, Murry, together with Dick Muemer, tried to start their own newspaper comic strip, Buck O'Rue. This endeavor did not go especially well, however, and it was ended after a couple years, to the joy of all Disney fans.
The Classic Serials
Already from the beginning in 1940, WDC published an installment of Mickey Mouse in every issue. During the forties, these were only reprints of Floyd Gottfredson's daily adventures, but around 1950, new serials were produced especially for the magazine. Around this time, there started to be a shortage of daily comic strip serials that were long enough without being offensive. The serials that had appeared in the daily newspapers were not as strictly limited in their content since they were meant primarily for an adult audience. A number of different artists were tested before Murry's first serial was published in WDC 152, in May 1953. This tale, "The Last Resort" is a milestone in the history of Mickey Mouse. Not only was it Murry's first serial comic - it was also written by veteran Carl Fallberg. During the golden years, up until 1962, it was Murry and Fallberg who stood for almost all of those serials in WDC, which etched themselves into the minds of millions of readers. During his career Murry never wrote a story of his own, making it difficult to overemphasize Fallberg's contributions. "The Last Resort" was a brilliant story to launch their reign with. Mickey and Goofy are vacationing at the Whispering Pines Hotel, but soon discover that somebody is trying to scare them away. Following various mysterious events, they find the villains' hangout by accident, only to be discovered and almost used for blackmailing the woman who owns the hotel. The whole story is richly illustrated and very readable.
In the serials, Mickey and Goofy are sent off on adventures all over the world (and into outer space for that matter). They often collaborate with the police, and numerous villains pass through the comic strips over the course of time. Mickey's encounters with Black Pete are the most common, occurring in approximately every third serial. Murry also utilizes a group of standard villains, adapted to various situations. One of the usual villains who appear with Black Pete, is often referred to as Catfoot, a relatively short character with a very thick beard under his long nose. Also common is a rather fat scoundrel with beard stubble.
Indicative of Murry's serials during the fifties was the enormous amount of work that he put into the backgrounds and the details. Serials such as, "The Marvelous Magnet" (WDC 182-184), "The Phantom Fires" (WDC 200-202) and "The Threat of the Stone-Eaters" (WDC 217-219) all contain brilliant depictions of nature, wind and the weather. His half page illustrations which begin the various installments of the serials are especially magnificent. Murry, himself, has said that he was never especially interested in drawing comics but rather, did it mostly for the money, although there is no trace of this during the fifties.
Redrawn daily strips
At the end of the 1940s a number of old adventures were redrawn to make them more timely, but that stopped after a few years. Another two redrawn newspaper adventure strips from 1940 were published in 1959/60. The first of them was "The Bar-None Ranch" in WDC 229-233. It tells the story of Mickey's and Goofy's adventures at a vacation ranch in the Wild West, where Black Pete kidnaps women and demands ransoms for them. Like most of these old adventures, it is very long, and Murry's version was no less than forty pages. The second one was just as long, "An Education for Thursday" (WDC 237-241), and was about the adventures of the little savage Thursday, in Mickey's home town.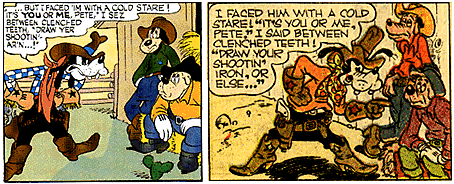 Already some years earlier, Murry had gotten the job of redrawing certain sequences of Floyd Gottfredson's classic story, "Mickey Mouse Outwits the Phantom Blot" from 1939. The redraws, in this case, are completely understandable, since certain scenes where the Phantom Blot gets Mickey into various death traps are rather rough. This did not mean, however, that the new versions were all that much better. Among other things, a cat which jumped up and was going to fire a pistol at Mickey was taken away. The whole scene has instead been replaced by one where the Phantom Blot places Mickey over a pile of dynamite. Not much more humane. Murry's version was published in the Mickey Mouse Club Parade, at the end of 1955.
In addition to the serials in WDC, Murry also drew stories with Mickey in the magazine Mickey Mouse (MM). The longer, introductory adventure in every issue is comparable to the serials in WDC, but the shorter tales in Mickey Mouse show another side of Mickey. In those instances, he is usually in his hometown or its vicinity, and there are rarely detective adventures. Of course there are often shady characters, but in these stories, Mickey is much more helpless. They are more about how Mickey, with varying results, tackles his everyday problems. Mickey is often confused and isn't always able to get out of situations by himself. Pluto, Minnie, and Morty and Ferdie appear regularly in them.
Goofy and Pluto were the two characters, aside from Mickey, that Murry handled best, and they both also appeared in their own magazines. For a long time, there was a four page story with Pluto in every issue of WDC, which Murry often illustrated. In these stories, Pluto is very sentimental and is often depicted dreaming. Appearances by Mickey, and Morty and Ferdie are usually as secondary characters. During later years, Pluto participated more frequently in Mickey's detective work, while at the same time becoming more restrained so as not to detract from the story.

| | | |
| --- | --- | --- |
| | | |

Murry was a master at drawing Goofy. He had the ability of twisting and turning Goofy's arms and legs so that they always pointed in exactly the right direction. It was also Murry who early on introduced Goofy's characteristic way of holding his hand in front of his mouth. Goofy's own stories from the end of the fifties are often small comedic gems. The foremost example is probably "The Unknown Hero" (FC 952/1958), where Goofy unknowingly scares the wits out of an escaped convict simply by behaving clumsily.
Mickey of the Sixties
In the beginning of the sixties, things started going downhill for Mickey Mouse comics in the United States. The scripts became increasingly uninteresting, the drawings more bland and less thoroughly worked-out. Murry's serials were no exception. For a short period during the sixties, Murry used a much more boxy style of illustration, and after that one can notice a dramatic decline in the quality of his artwork. This is most true of the stories in Mickey Mouse, however. The serials in WDC still had good manuscripts, which seemed to inspire Murry to make more of an effort. Serials worth mentioning include, "The Return of the Phantom Blot" (WDC 284-287/1964) where the Phantom Blot made his first return since Gottfredson created him in 1939.
Towards the end of the sixties there was, however, a temporary increase in quality even in the stories in Mickey Mouse. Readers from these years certainly remember the exciting serials such as "Blackbeard the Pirate" (MM 114), "The Ski Ghost" (MM 120) or "The Moose Monster Mystery" (MM 122), which are in fact outstanding. Among my personal favorites is "The Mysterious Knight Rider" (MM 119), where Goofy inherits an old castle in Scotland, only to discover that at night it is visited by a knight on a horse. After this temporary upswing, Murry only drew occasional stories for Mickey Mouse, putting his energies instead into WDC.
Two themes became popular in the Mickey Mouse comics in the late sixties, namely science fiction, and to locate the stories at a point somewhere in history. Serials like "The Red Wasp Mystery" (WDC 317-319), "The Strange Case of Professor Zero" (WDC 339-341) and "Kingdom in the Clouds" (WDC 366-368) are very inspired by science fiction. Professor Zero comes from the 75th century and is being used by, among others, Emil Eagle for shady purposes. Emil has the idea of transporting water into the future where it has become a scarce commodity. It is not at the same high level of quality as Carl Fallberg's old serials, but it is definitely worth reading.
In two of the three serials that Carl Fallberg wrote after 1962, he places the events back in time. In "The River Pirates" (WDC 336-338), Mickey and Goofy are fur traders in the 19th century, while in "The Pirates of Port Placid" (WDC 374-376) they fall prey to pirates from the 18th century. And there are other stories from this period with similar themes.



A very unusual project was conducted in Mickey Mouse in 1966. Murry was allowed to work together with Dan Spiegle, resulting in Mickey and Goofy living in a completely realistic world. Only three such issues were produced and published in MM 107-109, but they are very interesting as experiments. Of course they lack the charm of a normal "funny animal" comics, but at least the latter two work fairly well.
Around 1964/65, Murry was put in charge of two new comics that Disney rolled out. Soon after the Phantom Blot character was revived in WDC in 1964, The Phantom Blot (PB) comic book was started. While there were only seven issues, it still contained several gems, for example "The Phantom Blot Meets Mad Madam Mim" in PB 4. The Blot lures Madam Mim into helping him get out of prison by telling her that he deeply loves her. Mim, inspired by Snow White and dream princes, of course falls for the Blot and confuses Mickey and the police. Absurd, but very funny.
The other new comic book was Super Goof (SG) which was started in October 1965. The first Super Goof story was published in PB 2 and was, naturally, entitled "The Phantom Blot Meets Super Goof". In it, Goofy believed that he had super powers and ran around the Wild West dressed in long underwear and a potato sack. The first story with a strong Super Goof ran in Donald Duck 102 (1965) after which Super Goof was started. All of these serials, including the first six issues of SG, were illustrated by Murry. Some of them are definitely among Murry's funniest. "The Giant Windoola Jade" (SG 3) is a prime example, as is the classic issue before that, "The Strange Case of Dr. Syclocks" (SG 2). Dr. Syclocks is a living mechanical clock with delusions of grandeur, invented by Gepetto, Pinocchio's father. He runs around and burglarizes clock stores in order to get more clock jewels than any other clock in the world. The very idea is completely ingenious.


During the seventies, Murry's drawing became increasingly routine. The serials in WDC were ended in 1973 and were replaced with an eight page story in every issue. These stories were rarely of very high quality, and were probably not too inspiring to draw. Murry's illustrations became much more stiff and the backgrounds more Spartan - when they were not left out altogether. But he did continue to draw, on a reduced scale, until 1984 when the final issue of WDC (until Gladstone took over two years later) was published. By this point, he had lost all desire to draw comics. Those final years, prior to his death in 1989, were probably not devoted to Mickey at all.
Those who would like to explore Murry's fantastic world would do well to start with the gems from the fifties. It is the memories of all of those fantastic adventures that remain among millions of comic book readers.

Translated from Swedish by Henrik Nordström.

This article is © copyright Germund von Wowern, 1997.

[English Homepage]
[Svensk bassida]
[Articles menu]

***