Max Klinger's "Ein Handschuh" (A Glove), 1881: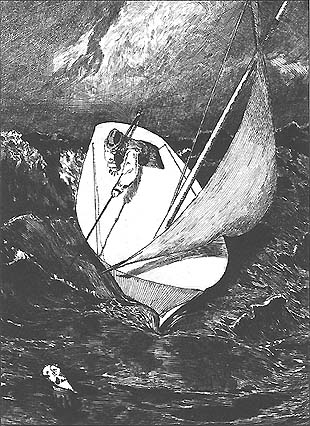 4. "Rettung" (Rescue)
Technique: Etching, size of actual image: 14.3 x 10.4 cm.
Now, what happens here? Is it really a rescue - or a recapture? This is the second time the artist must pick up the glove. A handshaped form in the sky might be reaching for the artist like the artist in his sailboat reaches for the glove. The half-sunken glove looks like a face of someone barely floating upon these seas of night. According to annotations made by Klinger, several of the Glove images had alternate titles - this one was also called "Die Gefahr", The Danger, which adds to the ambiguity.

Previous image|Next image
About Max Klinger

[English Homepage]
[Svensk bassida]
[Origo menu]

***