Max Klinger's "Ein Handschuh" (A Glove), 1881: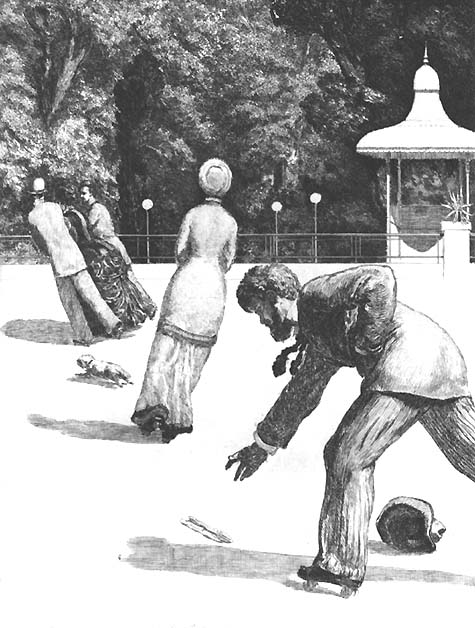 2. "Handlung" (Action)
Technique: Etching, size of actual image: 24.8 x 18.9 cm.
And already there is action, speed, and the dynamics of intersecting fields of force. There is also the rythm of the pendulum, visualized in the diagonal lines formed by the skaters. The woman in the background together with two gentlemen - is she the beauty who caught everybody's attention earlier, or is she maybe the woman who stood closest to the dog in plate 1? She now looks back over her shoulder, maybe at the dog, maybe she misses her glove and hopes that the man in striped pants (probably the artist himself again) will get hold of it and bring it over to her. Or does the glove belong to the tall woman in the light dress in the middle of the picture? Maybe this is the key to a great misunderstanding that triggers the next set of fantasies. Maybe the glove does not at all belong to the woman that the man is attracted to. Could it be that this vague ownership indicates that it is not at all important who owns the glove - that it is sufficient unto itself? The man has just dropped one symbol (his hat) and now reaches for another one (the glove, which correlates to the middle woman like the dog to the background woman, and thus the glove is turned into an animistic object). It is prey, and all of a sudden even the outstretched hand of the artist looks like the jaws of an animal ready to clutch.

Previous image|Next image
About Max Klinger

[English Homepage]
[Svensk bassida]
[Origo menu]

***