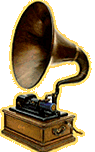 THE PHONOGRAPH CYLINDER was rotogravure and it was lathed sound. When we had stopped carving on flat rocks or chiseling pristine Roman type onto Roman walls, the gramophone record eventually became our culture's foremost carrier of engravings. Certainly, a snail also leaves a trail, but the concept of intaglio still seems more primordial than applying color or ink on a surface. Engraving is plowing (which was the ancient Greek metaphor both for writing along a line and reading lines of text): intellectual and agrarian culture apparently meet in yet another area.1 Freud hinted on something similar in his fascination for the "magic writing-pad", which he meant turned impression into perception - and memory.2 Vi impress, and get impressed.
Of course, the trace in the wax cylinder was writing, but who wrote it? As with photography, we are here presented with a kind of writing (Greek graphein - 'write', 'carve'), where reality itself is the author. A musical piece on a phonograph roll must have a composer and one or more executants, certainly, but still one must distinguish between the work that is written on the music sheet, the work that is sifting through the fingers of a musician or between the vocal cords of a singer, and the work that is finally transmitted through the air, intermixed with room acoustics and background noise. Reality is what is being preserved. "Live in studio" is a modern expression, that conveys the idea that little or no editing or post-processing is done. But, in a certain sense, all kinds of recordings are documentary, both when it comes to sounds and images. Even the feature film is documentary, since it shows us what the studio looked like under certain conditions set by director, lighting engineers, set designers, and actors, for a specific scene.
Even Rilke, who lived during this period of transition when these new media emerged, mused a great deal upon both media and the nature of things. He had probably read Lucretius, who knew not only that objects emit their shell-like images but also envisaged other "prints and vestiges of forms which flit around, of subtlest texture made".
In 1919 Rilke decided that he had been tormented long enough by a fantasy he had nurtured since his school years. It dealt with sound, and now he sat down and wrote the short text "Ur-Geräusch" (Primal sound). At some point during the 1890's, his science teacher had showed the students how to construct a simple phonograph from cardboard, paper and wax, and with a bristle from a clothes brush serving as a needle.
Naturally, Rilke was fascinated that sound could be preserved in this way, and he found it noteworthy - presumably also with an intrinsic beautiful logic - that the same machine could be used both for recording and playing. He describes how the sounds that the students had produced were transmitted back to them from the wax cylinder through the funnel - tremblingly, haltingly, uncertain, and infinitely soft. It was as if something was appealing to them, something superior but yet immature, as if seeking help.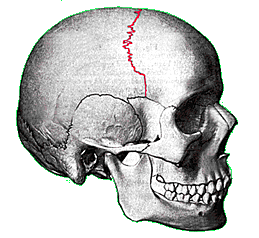 The coronal suture, does it contain a hidden message?

Still, there was something else that had captured Rilke's attention even more. Fourteen or fifteen years after the class experiment, Rilke studied anatomy at the École des Beaux-Arts in Paris. Now he discovered how the seams in the human skull, especially the zigzaging coronal suture, resembled the audio track on a phonograph cylinder. Rilke's telling of how he dreamily, almost incidentally, in the flickering light from a candle, noticed this similarity, almost resembles some passage in Poe. In a way, this depicted the meeting of the 19th century, with its clinic theaters and phrenology, with the 20th century and its new machines that extend our senses. This is also an idea Friedrich Kittler exploits in his analysis of the Rilke text.3
But, speculates Rilke, what would happen if one used the phonograph needle to play something that was never recorded - if one decoded something never encoded? If one, for instance, was to put the needle into the coronal suture and tried to play the wave pattern of the bone seam? There would be sound, of course, but which ones, and how would we react to hearing them? With incredulity, timidity, fear - or awe?
One traces the search for a kind of primordium, something older than man, maybe a pronouncement from the tailor who made that seam; an abstruse, spellbinding sound, like the ones we receive from particle storms in space, or when monitoring whales in the depths of the seas. We have always been dissatisfied with the silence of God.
Rilke also regards this as a first step towards unifying our senses into a kind of multisensory or synesthetic experience (which, by the way, Lucretius considered impossible - "shall the ears have power to blame the eyes"). True poetry springs from this, Rilke says, while a woman friend of his instead claims that maybe the foremost requisites are presence of mind and the grace of love. He dwells amazingly long on arguing against this. The lover is unfettered by spatial bonds, Rilke claims, while the poet clearly perceives the gravity of the engulfing abyss, which keeps the senses apart.
Rilke thinks of the skull as "this special housing, closed against all worldly space" ("dieses besondere, gegen einen durchaus weltischen Raum abgeschlossene Gehäus"). He is certainly also aware of how the seams of the skull represent the leakage between our inside and outside world, a connection that grows more and more solid through the years and finally ends up being merely a symbol, like an engraved sign.